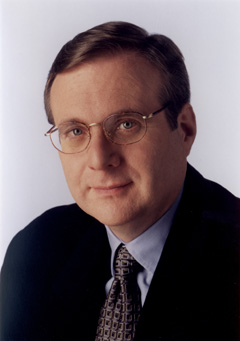 Paul G. Allen develops world-class initiatives that change and improve how people live, work, learn, and experience the world. He is the founder and chairman of Vulcan Inc., chairman of Charter Communications (a broadband multimedia company), and a member of the National Academy of Engineering.
Paul is the sponsor of SpaceShipOne, winner of the international Ansari X-Prize competition; founder of Experience Music Project (Seattleís critically acclaimed music museum), the Science Fiction Museum & Hall of Fame, and the ìDoubleTake: Monet to Lichtensteinî art exhibition showing at EMP this year; creator of the $100 million Allen Institute for Brain Science and its breakthrough Allen Brain Atlas initiative, and of the forthcoming microcomputer gallery at the New Mexico Museum of Natural History & Science (opening November 2006); and owner of the 2006 NFC Championship Seattle Seahawks NFL and Portland Trail Blazers NBA franchises.
Paul is the founder of Vulcan Productions, the independent film production company behind 2005ís critically acclaimed ìRx for Survivalî multimedia campaign and PBS series; the current hit feature film Hard Candy; Todd Haynesí award-winning Far from Heaven; the groundbreaking PBS series Evolution; and The Blues, executive-produced by Martin Scorsese.
Born and raised in Seattle, Paul attended Lakeside High School and Washington State University, and co-founded Microsoft Corp. with Bill Gates in 1975. Learn more about Paul Allen online at www.paulallen.com.