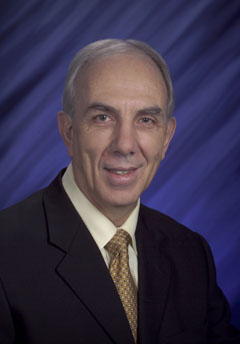 Mike Davis is the associate laboratory director for the Energy and Environment Directorate at Pacific Northwest National Laboratory. In this role, Mike leads a team of more than 1,000 staff focused on delivering science and technology solutions to increase our nation's energy capacity; reduce dependence on imported oil; and detect, mitigate, and prevent the environmental impacts of legacy waste and energy generation and use. The directorate conducts approximately $250 million in research annually for government and industry clients.
Mike has held a multitude of energy leadership roles in industry and government, including serving as the U.S. Department of Energy's assistant secretary for Conservation and Renewable Energy at the appointment of President Bush in 1989. He is an invited member of the National Academy of Sciences' Renewable Energy Panel, as well as the NAS Committee on U.S.-Chinese Cooperation on Electricity from Renewable Resources, and has provided leadership for several other energy-related organizations, including as president of the Solar Energy Industries Association and chairman of the National Hydrogen Association.
Mike holds a bachelor's degree in Civil Engineering from the U.S. Air Force Academy and a master's degree from the University of Illinois (1970).