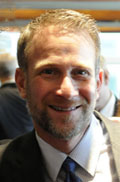 David Alport heads global communications for the Global Business Coalition on HIV/AIDS, Tuberculosis and Malaria (GBC). At GBC, he is responsible for marketing communications, stakeholder relations, publications, digital media, interactive communications, and events. As GBC prepares to celebrate its 10th anniversary in June 2011, David will guide the Coalition's communications efforts to embrace the organization's evolving mandate on global health and to embolden the work of GBC's expanding roster of engaged companies and partners.
Prior to joining GBC, David ran a boutique strategic consulting firm, focused primarily on the travel and tourism sector. From 1992 to 2002, David created and ran Out & About, a publishing company that produced a monthly newsletter, guidebooks, and website for gay and lesbian travelers. Prior to Out & About, David worked in marketing at American Express, focused on strategic partnerships.
David is a graduate of Brown University, with a BA in Psychology. He loves to travel and is thrilled to call New York City home when not on the road. David currently serves on the board of the Housing Works Thrift Shops in New York City.