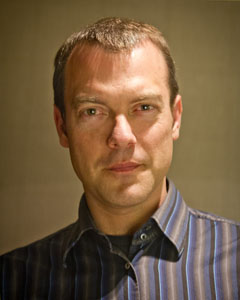 David Erdelyi is an internationally recognized expert in virtual tool development. He was the founder of Mediacat, a multimedia production company established in September 1994 in Toronto, Canada, to bring interactivity to information contained in graphics, music, and animation together in one global presentation medium. In 1996, David then joined forces with Sun Microsystems and the House of Blues New Media Group to put together the first prominent interactive Java-based music application available through a Web browser, and it was featured on over 50 Java Workstations at the 1996 Summer Olympic games held in Atlanta. The Blues-Riff Guitar application combined 3D design and Java programming, enabling visitors to interactively build their own blues song and play it back.
In 1998, when founding Video Instinct LLC, David put to patent a revolutionary method of databasing, displaying, visualizing, and manipulating massive amounts of information concisely with the development of "ProSight, Instant Product Assessment"™. Video Instinct LLC has developed strong relationships with several technology companies in Silicon Valley, with ongoing contracts providing strategic technical marketing materials using a variety of multimedia methods for inclusion in a Web 2.0 fabric including building electric vehicles and combat robots.
David will say that the notion of "being green" is not a new concept, as far as he is concerned; in fact, he has been working on sustainable architecture designs in electronic form since 1992, and all his digital, mechanical, and electrical design method designs always emphasize efficiency.
In his latest venture, David co-designed an all-electric vehicle called the E.Rex. The E.Rex prominently earned a 10th place standing in the X-Prize competition in 2010 and was on display at green technology shows in the San Francisco Bay area, including the 2010 EV showcase at Stanford University. The 100% all-electric E.Rex was also on display at CES & CEATEC in 2011 and more recently at ESC 2012 in San Jose.
A selected client list includes: Nuvation Engineering, Green Vehicles, Optamotive, Sun Microsystems, Blue Coat Networks, Maxim IC, Microchip, Lotus, Ciena, and the PGA & NFL sports leagues.