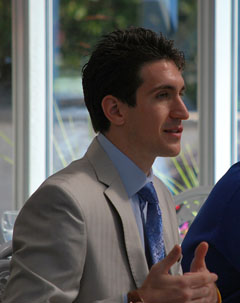 Ali Evan Ayasso will graduate from the Thunderbird School of Global Management in the summer of 2013 with an MS and MBA in International Management and Finance. He earned his Bachelor of Arts degree in Sociology from Princeton University in Princeton, New Jersey, and a certificate in General Management from Stanford University Graduate School of Business in 2009.
Originally from Pittsburgh, Pennsylvania, Ali Evan has lived and worked in Damascus, Syria, where he worked in private equity research, brokerage, and project management. Shortly before the government crackdown in 2011, Ali Evan returned to the United States, where he served as interim CEO of a software startup. At Thunderbird, Ali Evan is a member of the EDGE Leadership Development Program and has served as the president of the Middle East North Africa club.
After the FiRe Conference, Ali Evan will work in the Leaders in Finance Tomorrow internship program at AstraZeneca, and, upon completion of his MS and MBA, he plans to pursue opportunities in finance in a global context.