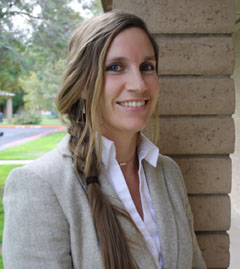 Story Tweedie-Yates is currently pursuing her MBA degree at Thunderbird School of Global Management in Glendale, Arizona. She will graduate in 2013 with a focus in marketing and business development. She was voted into office as the vice president of the Thunderbird Marketing Association and serves an executive function as the Geothermal chair for the Energy Club. She participated in a Sustainable Business Development course in Costa Rica in January 2012 and will be studying core courses and the European business environment in the Czech Republic until April 2012.
Story's early career and educational experiences have centered around her success as a tennis player. She earned a scholarship at Stanford University, which led to a bachelor's degree in Psychology in 2005. As a student athlete, she enjoyed both academic and athletic success, receiving the ESPN First Team All American award in 2005. Her undergraduate tennis career led to a professional tennis career, in which she competed on five different continents and earned career high rankings of #189 in doubles (2009) and #316 in singles (2006). While on the tour, she managed her own affairs, arranging all travel logistics, budget, and marketing activities in order to gain sponsorships and wild cards into events, with the goal of maximizing profits and future performance.
Toward the end of her professional tennis career, after four years of full-time competition, Story took two coaching jobs at Fresno State University and then at the DFW Hilton Lakes Sports Club in Grapevine, Texas.
Following her professional tennis career, Story plans on utilizing the research skills she gained from her undergraduate degree, the marketing and team-building experiences from her professional tennis career, and the practical business skills from her education at Thunderbird to work as a marketing and business development specialist. She hopes to be able to employ her Spanish language skills and international experience in her next job for a global corporation.