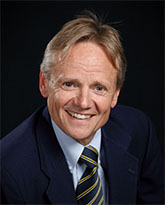 Richard J. Ellings is president of the National Bureau of Asian Research (NBR) and affiliate professor of International Studies at the Henry M. Jackson School of International Studies, University of Washington. NBR is a nonprofit, nonpartisan institution whose mission is to inform and strengthen policy in the Asia-Pacific. Co-founder of NBR, he has served as the institution's executive director and sits on the board of directors.
Prior to serving with NBR, Richard was assistant director and on the faculty of the Jackson School, from 1986 to 1989. In this capacity, he was a member of the school's Executive Committee and responsible for a wide range of administrative functions. He taught courses dealing with Asia, American foreign policy, and international relations (including foreign economic policy and international political economy), and was director of the George E. Taylor Foreign Affairs Institute.
In 1984 and 1985, Rich served as legislative assistant in the United States Senate, Office of Senator Slade Gorton. He was the senator's senior advisor for, and responsible for legislation on, foreign and defense policy issues.
Rich publishes articles and chapters regularly. His books include Embargoes and World Power: Lessons from American Foreign Policy (1985); Private Property and National Security (1991, co-author); Strategic Asia 2003-04: Fragility and Crisis (2003, co-editor with Aaron Friedberg); Strategic Asia 2002-03: Asian Aftershocks (2002) and Strategic Asia 2001-02: Power and Purpose (2001); Korea's Future and the Great Powers (2001, co-author and editor with Nicholas Eberstadt); and Southeast Asian Security in the New Millennium (1996, co-editor with Sheldon Simon). He is the co-founder and co-chairman of the editorial board of Asia Policy (2006-present) and founding editor of the NBR Analysis publication series. He established the Strategic Asia Program and AccessAsia, the national clearinghouse that tracks specialists and their research on Asia, and has served as consultant to the Office of the Secretary of Defense, Department of State, and other US government offices and agencies.
Richard received the University of Washington's Distinguished Teaching Award and was a nominee for the same award at California Polytechnic State University, San Luis Obispo, where he taught in 1980 and 1981. He specializes in the political economy of international relations and national security, with emphasis on East Asia.
Rich earned his BA in Political Science from the University of California-Berkeley and his MA and Ph.D. in Political Science from the University of Washington. He studied in China as well, and his professional activities continue to take him overseas regularly.