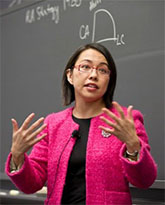 Pai-Ling Yin is a Social Science research scholar at the Stanford Institute for Economic Policy Research. She co-founded the Mobile Innovation Group (MIG: mig.stanford.edu) with Tim Bresnahan of Stanford and Jason Davis of INSEAD, studying all the aspects of the mobile app ecosystem, from industry evolution to platform competition to entrepreneurial strategy. MIG was awarded a three-year NSF grant.
In August 2016, Pai-Ling will be an associate professor of Clinical Entrepreneurship in the Greif Center for Entrepreneurship at the University of Southern California's Marshall School of Business. She will also be the director of the Technology Commercialization Initiative.
Pai-Ling received a Ph.D. in Economics from Stanford and was a professor of strategy at both Harvard Business School and MIT Sloan School of Management. She has written numerous cases on technology and strategy and research papers on platform competition (eBay, trading exchanges) and diffusion of innovation. She is also the co-owner of a FitLab Pilates in Cambridge, Massachusetts.