The STRATEGIC NEWS SERVICE®
Weekly Global Report
16 Years Providing Weekly Foresight
The most accurate predictive letter in computing and telecommunications,
read by industry leaders worldwide.
| | | |
| --- | --- | --- |
| SNS Subscriber Edition | Volume 15, Issue 25 | Week of June 25, 2012 |
***SNS***
Special Letter:
Caregiving at the Crossroads
[Please open the .pdf attachment for best viewing.]
By Kian Saneii
___
Save the Date!
For the 4th SNS 2012 Conference Call: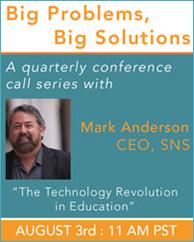 See "Upcoming SNS Events" below for details on all SNS programs and registrations.
If you'd like to be more involved in SNS events as one of our select partners or sponsors, please contact Sharon at: sam@stratnews.com or 435-649-3645.
Publisher's Note: We often miss the simplest things, from out-of-control costs in higher education to the same (and its unintended consequences) in healthcare. In this issue, one of my favorite entrepreneurs, Kian Saneii, explains his own understanding of how to reduce costs and increase service value in our oldest U.S. demographic. You think this isn't important? It represents, from a cost perspective, the most expensive part of our national healthcare outlay. More important, from a more human perspective, this issue revolves around the ability of an aging population to remain at home, in place, rather than move to a devastatingly expensive senior home of one kind or another.
All of us must come to terms with this issue; all of us have parents. And yet, almost nothing has been done to provide integrated services in the home. Please read this, and ask yourself, "How can I help Kian make this an integral part of the U.S. healthcare system?" mra.
...