The STRATEGIC NEWS SERVICE®
Weekly Global Report
16 Years Providing Weekly Foresight
The most accurate predictive letter in computing and telecommunications,
read by industry leaders worldwide.
| | | |
| --- | --- | --- |
| SNS Subscriber Edition | Volume 15, Issue 30 | Week of July 30, 2012 |
***SNS***
Education Beyond Technology
[Please open the .pdf attachment for best viewing.]
Sign up now for tomorrow's event -
The Last SNS 2012 Conference Call: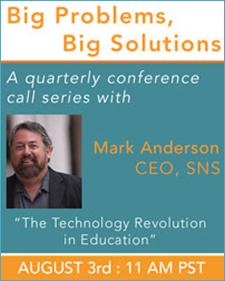 See "Upcoming SNS Events" below for details on all SNS programs and registrations.
If you'd like to be more involved in SNS events as one of our select partners or sponsors, please contact Sharon at: sam@stratnews.com or 435-649-3645.
"A good hockey player plays where the puck is. A great hockey player plays where the puck is going to be." - Wayne Gretzky
Today, at a time when the incorporation of basic Internet connection technology in K12 schoolrooms is accepted as a "When, not If" proposition, almost all of the conversation remains focused on the bits and bytes. Which laptop? Which router? Which parental/teacher-control software? Which sites should be blocked?
And while all of these are important tactical questions (a few of which I'll touch on here), it seems this would be exactly the right time for the world to be looking beyond the minutiae, toward comprehending and embracing a completely new vision of both education and its result.
...