The STRATEGIC NEWS SERVICE®
Weekly Global Report
16 Years Providing Weekly Foresight
The most accurate predictive letter in computing and telecommunications,
read by industry leaders worldwide.
| | | |
| --- | --- | --- |
| SNS Subscriber Edition | Volume 15, Issue 33 | Week of August 20, 2012 |
***SNS***
The SNS Programme in
Technology and the Economy
[Please open the .pdf attachment for best viewing.]
___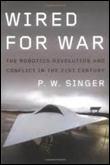 SNS Book Selection: Wired for War: The Robotics Revolution and Conflict in the 21st Century, by P.W. Singer; published by Penguin Press HC.
___
See "Upcoming SNS Events" below for details on all SNS programs and registrations.
If you'd like to be more involved in SNS events as one of our select partners or sponsors, please contact Sharon at: sam@stratnews.com or 435-649-3645.
The SNS Programme* in Technology and the Economy
It is now well-known that virtually all trained economists missed predicting the most important (and large-scale) economic event of the last 50 years: the current decline now called the Global Financial Collapse. The "dismal science" group is now so dismal that they are holding introspective meetings for a complete review of the practice of what they have been calling "economics."
I am not sure there is much in modern economics worth teaching, or saving. It seems the practitioners are on the verge of agreeing with this perspective.
In one such recent gathering, participants were asked to kick in funds for this purpose, and one report has an SNS member donating tens of millions of dollars.
The king is dead, long live the king.
...