The STRATEGIC NEWS SERVICE®
Weekly Global Report
16 Years Providing Weekly Foresight
The most accurate predictive letter in computing and telecommunications,
read by industry leaders worldwide.
| | | |
| --- | --- | --- |
| SNS Subscriber Edition | Volume 15, Issue 36 | Week of September 10, 2012 |
***SNS***
Production vs. Consumption:
Computer Sales Explode!
[Please open the .pdf attachment for best viewing.]
___
"Mark is the smartest guy in the room." Ann Baker, Founder, Blue Creek Marketing, at the Mobile Future Forward Conference this week.
___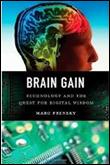 SNS Book Selection:BRAIN GAIN: Technology and the Quest for Digital Wisdom, by Marc Prensky.
___
See "Upcoming SNS Events" below for details on all SNS programs and registrations.
If you'd like to be more involved in SNS events as one of our select partners or sponsors, please contact Sharon at: sam@stratnews.com or 435-649-3645.
Computer Sales Explode!
Wherever one turns these days, from Steve Jobs' quotes and Apple releases to Intel's earnings projections, the same headlines leap out: "PC Sales Decline," "Computer Sales Falling," "PC Chip Sales in Tailspin," and so on. If you weren't paying attention, you might think the computer industry had hit a headwind.
The "pundits" have been busy explaining all of this, with guesses ranging from EU problems to Chinese tactics to Asian slowdowns to the so-called "post-PC era." Yes, each of these elephant legs is attached to something, but what about the elephant?
Thanks to a mistake made early on by the Rear View Mirror kids (market research firms good at describing the past: Gartner in particular, followed by Forrester, etc.), the computer industry would appear to be in serious trouble, for any one of the above reasons.
There is only one problem: it isn't so.
...