Weekly Report on
Technology and the Economy
16 Years Providing Weekly Foresight
The most accurate predictive letter in computing and telecommunications,
read by industry leaders worldwide.
| | | |
| --- | --- | --- |
| SNS Subscriber Edition | Volume 15, Issue 48 | Week of December 10, 2012 |
***SNS***
Global Landscapes in 2013
Technology and the Economy
In This Issue
Feature:
Global Landscapes in 2013: Technology and
the Economy
Theme: "A Flip in Growth Rates"
Upgrades
Takeout Window
In Other House News...
[Please open the .pdf attachment for best viewing.]
___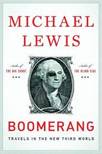 SNS Book Selection:
Boomerang: Travels in the New
Third World, by Michael Lewis (W.W. Norton & Company Inc., 2011).
___
See "Upcoming SNS Events" below for details on all SNS programs and registrations.
If you'd like to be more involved in SNS events as one of our select partners or sponsors, please contact Sharon at: sam@stratnews.com or 435-649-3645.
Technology and the Economy
This year we have taken a different approach to publishing 2013 predictions, separating the Ten Predictions, which are meant to stand in specifics, word for word; from the technology and economic landscapes on which they will play out.
In this week's Report I am laying out these terrains, in the hope they will be of general use for all members needing to plan in the coming year. Starting with the economy:
...