Global Report on
Technology and the Economy
18 Years Providing Weekly Foresight
The most accurate predictive letter in computing and telecommunications,
read by industry leaders worldwide.
| | | |
| --- | --- | --- |
| SNS Subscriber Edition | Volume 16, Issue 15 | Week of April 22, 2013 |
***SNS***
Special Letter:
Mobile Voice and Natural Language Understanding: Revolution or Evolution?
[Please open the .pdf attachment for best viewing.]
By Vlad Sejnoha, CTO, Nuance Communications
___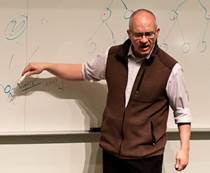 Join Tony Blau Professor of Medicine at the University of Washington and one of the world's leading researchers in stem cells and regenerative medicine to learn about a series of amazing breakthroughs leading to

human trials in repairing heart, liver, and nerve tissue.
Publisher's Note: If there is one technology in the world which would seem to hold the key to liberating the human-compute connection, it is voice recognition; and if there is one person in the world who knows most about this link, it is likely Vlad Sejnoha, CTO at Nuance. Most of us have spent a lifetime waiting for this technology to reach maturity, but Vlad is a star in the world of those who have made it happen.
But as SNS members will see from our issue this week, Vlad's interest in this technology goes far beyond VR and into what we have started calling "meta biometrics." I doubt that there is a major technology provider today that is not interested in getting this into its products in one way or another, nor is there a major consumer or enterprise company that is not on the hunt for how this can be used to improve its own customer relations and profits.
As Vlad's efforts lead to ever-greater understanding of man-machine communications, and of the information content in our own voices, the value of this work climbs exponentially. mra.
...