Global Report on
Technology and the Economy
18 Years Providing Weekly Foresight
The most accurate predictive letter in computing and telecommunications,
read by industry leaders worldwide.
| | | |
| --- | --- | --- |
| SNS Subscriber Edition | Volume 16, Issue 35 | Week of September 30, 2013 |
***SNS***
The Mobile Global Computer
Save the date!
Join us for the 9th annual SNS Predictions Dinner in NY, at the historic Waldorf Astoria Hotel, Thursday, 12/5, for an intimate cocktail reception, outstanding meal, Centerpiece Conversation, Mark's top predictions for the coming year, and a rousing follow-up Q&A. 6:30 till 10:00, details to follow, with registration now open, at:
www.stratnews.com/events/predictions-dinner
___

Would you like to meet award-winning documentary filmmakers, see and potentially influence films-in-progress, get preferred Sundance access and discounted Carmel Art & Film Festival tickets, and be part of the new wave of telling the story of technology improving society through film? This new exclusive 1-year membership, offered at the introductory low price of $100, is available for a limited time only. To sign up, go to:
www.stratnews.com/firefilms/signup
Email Sharon Anderson Morris with questions and to learn details about full benefits, at sam@stratnews.com.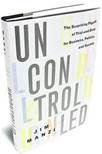 Reading Selection:
Uncontrolled: The Surprising Payoff of Trial-and-Error for Business, Politics, and Society; by Jim Manzi (Basic Books, May 2012).
For those who want to bring experimentation and innovation into society's decision-making processes; from the founder of Lotus and CEO of Applied Predictive Technologies. - mra.
We have just built the world's most powerful computer, but no one has used it yet. What is even more amazing: no one even knows it exists.
A Google search on this week's title' issues zero results - other than misplaced shopping carts and retail sites.
Now that we have published, that should change.
...