Global Report on
Technology and the Economy
18 - No, Make that 19 - Years Providing Weekly Foresight
The most accurate predictive report on technology and the global economy,
read by leaders in industry, finance, and government worldwide.
| | | |
| --- | --- | --- |
| SNS Subscriber Edition | Volume 17, Issue 22 | Week of June 16, 2014 |
***SNS***
Commercial Surveillance
[Please open the attached .pdf for best viewing.]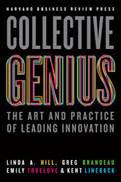 Recommended Reading:
Collective Genius: The Art and Practice of Leading Innovation, by Linda A. Hill, Greg Brandeau, Emily Truelove, and Kent Lineback (Harvard Business Review Press, June 10, 2014).
There is a sea-change under way in our understanding of how leaders enable small-team innovation in large groups and corporations, with the concurrent critical consequence of redefining the role and nature of CEOs. This new book gives a great view of this future, using best practices from leading groups such as Pixar and the "FiRe Lab": Calit2/Qualcomm Institute. - mra.
Which are you more concerned about spying on you and your data: national intelligence agencies or corporations?
Which do you think knows more about you: the NSA or e-commerce sites?
...