Global Report on
Technology and the Economy
19 Years Providing Weekly Foresight
The most accurate predictive report on technology and the global economy,
read by leaders in industry, finance, and government worldwide.
| | | |
| --- | --- | --- |
| SNS Subscriber Edition | Volume 17, Issue 37 | Week of September 29, 2014 |
***SNS***
Australia:
Dancing in the
Deadly Embrace
[Please open the attached .pdf for best viewing.]


"Mark Anderson, who is the head of SNS, is --- probably the most influential editor / publication commenting on the ICT industry." - David Thodey, CEO, Telstra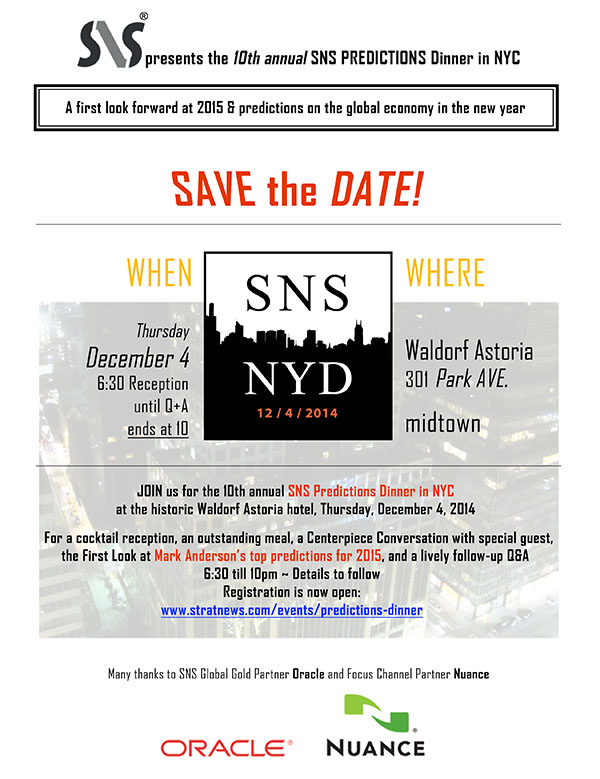 Australia: Dancing in the Deadly Embrace
When one enters the Parliament House in Canberra, Australia, as I did last week on the way to a meeting with Minister for Communications Malcolm Turnbull, one immediately encounters a framed historic document. In this letter to its penal colony, the British free nearly all convicts and provide grant lands of 30 acres or more to each, depending on marriage status and number of children.
There are a lot of things I like about Australia, perhaps the people most of all: they're smart, tough, charming, and perfectly suited to a country that runs from the surfing / diving meccas of Brisbane and the Great Barrier Reef to the infinite wild spaces of the Outback.
In the post-WWII era, Australia has generally had a booming, resource-based economy, driven by everything diggable or drillable, but mostly coal and iron. As China has moved from the Maoist days of a Communist business model with 1.2B dirt farmers into its current Communist Party-controlled Infomercantilist model, the effects of the change on Australia have been dramatic.
...