Global Report on
Technology and the Economy
19 Years Providing Weekly Foresight
The most accurate predictive report on technology and the global economy,
read by leaders in industry, finance, and government worldwide.
| | | |
| --- | --- | --- |
| SNS Subscriber Edition | Volume 17, Issue 41 | Week of November 3, 2014 |
***SNS***
Wireless Woes:
Demand Slaughters Supply
[Please open the attached .pdf for best viewing.]
"Bellingham is now a Center of Excellence in Cyber Security, and we have Mark Anderson to thank for that." - Mark Knittel, Chairman, Technology Alliance Group, at the recent opening reception for the Cyber Risk Summit
Our congratulations to the staff and members of Western Washington University, Whatcom College, and the Technology Alliance Group for working together to create this exciting new cyber security program.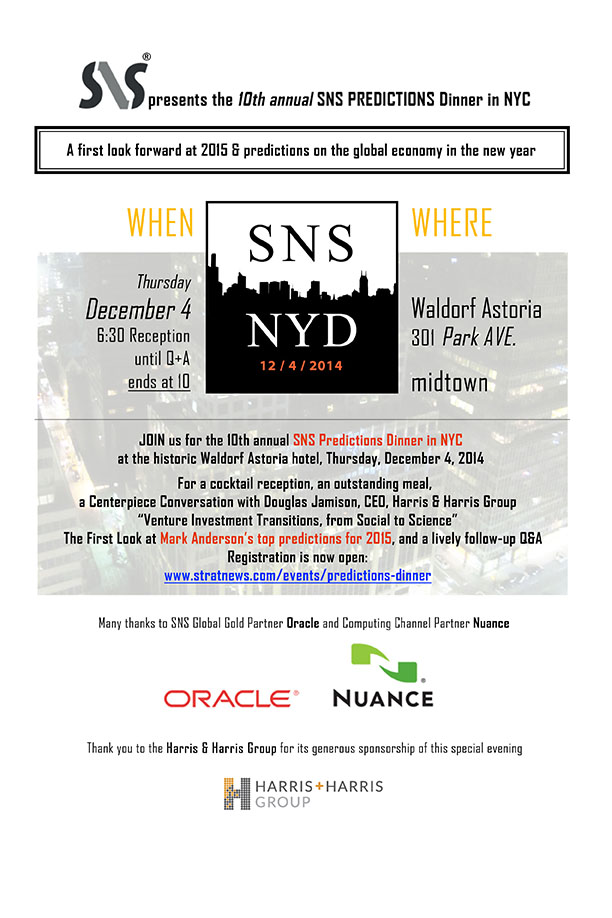 Demand Slaughters Supply
My flight landed at an international airport recently, and I immediately turned on my smartphone. Plenty of bars, LTE, all good to go, except - nothing was happening. No Net, no email. Was I in the Twilight Zone? No, I was in an airport, which, it turns out, is worse.
I also recently traveled to Australia, where my Verizon US account turned me over to Optus. In five days on the ground - including downtown Melbourne and Sydney - I never got enough bandwidth to download mail; I had to do all my "real" work through Wi-Fi systems.
In a story this week on LTE rollouts - which have already happened all over the continent - it turns out that all of Europe is suffering from a bandwidth shortage.
One of the largest technology-related battles on the US scene is the coming issue of whether wireless transmissions should be regulated under the same provisions as wired. Of course, the answer is yes, but getting the FCC through the army of lobbyists will take years. Today, the wireless side of the Internet is still a magic land without numbers or restrictions, if you're an optimist, or a consumer-fraud rollout business, if you're paying attention.
...