Global Report on
Technology and the Economy
19 Years Providing Weekly Foresight
The most accurate predictive report on technology and the global economy,
read by leaders in industry, finance, and government worldwide.
| | | |
| --- | --- | --- |
| SNS Subscriber Edition | Volume 17, Issue 42 | Week of November 10, 2014 |
***SNS***
Digital Wellness and the Transformation of Healthcare
- A FiRe Conversation Transcript -
With Leroy Hood
President, Institute for Systems Biology
and Recipient, 2012 National Medal of Science
Hosted by Larry Smarr
Director, Calit2, UC San Diego / UC Irvine (HQ Qualcomm Institute), UCSD
In This Issue
Feature:
Digital Wellness and the Transformation of Healthcare:
In Other House News...
[Please open the attached .pdf for best viewing.]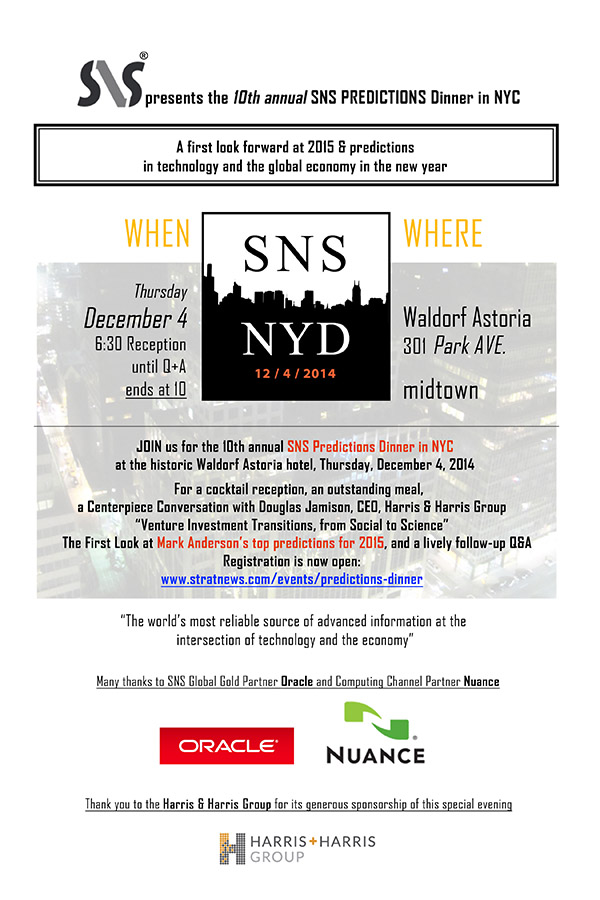 Publisher's Note: As most SNS members, and all FiRe attendees, are aware, we have been working over the last five years or so to help Leroy Hood and Larry Smarr redefine the practice of modern medicine. Larry has brought the science of the Quantified Self into the mainstream, with his extraordinary dedication to recording the many parameters of his blood, stool, weight, exercise, and other measurements, over a 10-year period. During this time, Lee Hood has established the most exciting new medical program on the planet, taking similar but more detailed measurements from the "100 Pioneers" in a new program aimed at establishing baseline figures for health and preventive medicine. That figure has already swelled past 1,000 and is soon planned to go to 100k.
In this transcript of their conversation at this year's FiRe Conference, SNS members who could not attend will have a chance to fully grasp what a real revolution in modern medicine will look like. - mra.
...