Global Report on
Technology and the Economy
19 Years Providing Weekly Foresight
The most accurate predictive report on technology and the global economy,
read by leaders in industry, finance, and government worldwide.
| | | |
| --- | --- | --- |
| SNS Subscriber Edition | Volume 18, Issue 15 | Week of April 20, 2015 |
***SNS***
10 Global Tech Trends
Off the Mainstream Radar
[Please open the attached .pdf for best viewing.]
_____
Recommended Reading: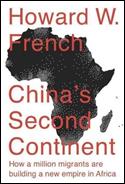 China's Second Continent: How a Million Migrants Are Building a New Empire in Africa, by Howard W. French (Vintage; reprint edition 2015)
For those watching China's Yuan Imperialism at work, French's book is a bible of sorts in documenting not only the power of money in buying access to Africa's resources, in an echo of the 200 years of Euro colonialism now coming to an end - but also in the willingness of Chinese citizens to leave the Motherland, and the effects on African populations when they do. - mra
10 Global Tech Trends Off the Mainstream Radar
...