Global Report on
Technology and the Economy
19 Years Providing Weekly Foresight
The most accurate predictive report on technology and the global economy,
read by leaders in industry, finance, and government worldwide.
| | | |
| --- | --- | --- |
| SNS Subscriber Edition | Volume 18, Issue 17 | Week of May 4, 2015 |
***SNS***
10 Global Economic Trends
Off the Mainstream Radar
In This Issue
Feature:
10 Global Economic Trends
Off the Mainstream Radar
Upgrades and Numbers
[Please open the attached .pdf for best viewing.]
_____
Recommended Reading: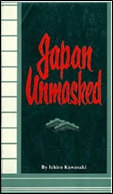 Japan Unmasked, by Ichiro Kawasaki (Charles E. Tuttle Co., 1st edition 1969)
I found a copy of this 1969 paperback in a small bookstore in Hanapepe, Kauai. The author, a member of the Japanese Foreign Service at the time, provides a startlingly blunt assessment of Japan, its people, and their cultural and trade practices. All of this comes just before Japan was to rev up its InfoMercantilist national business model, providing a rather fascinating inside look at the forces driving IP theft, "bleeding bid" dumping prices and practices, and government / industry cooperation. I felt in many ways as though I were reading about the inside state of Japan just before WWII, only this time the coming conflict would be economic. - mra
Takeaway Points from this Week's Feature:
Dumping the energy tax.
International IP Flows.
China's SAD program and its global effects.
Japan's progress.
IP benefits of the two trade treaties (vs. labor concerns over other issues).
Productivity gains and corporate cash vs. human values.
Global liquidity and currency wars.
The floundering Commonwealth states.
The German plan.
The real costs of global warming - and who pays.
...