Global Report on
Technology and the Economy
19 Years Providing Weekly Foresight
The most accurate predictive report on technology and the global economy,
read by leaders in industry, finance, and government worldwide.
| | | |
| --- | --- | --- |
| SNS Subscriber Edition | Volume 18, Issue 20 | Week of May 25, 2015 |
***SNS***
Pattern Recognition:
AI for the Next IA
[Please open the attached .pdf for best viewing.]
Recommended Reading: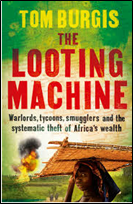 The Looting Machine: Warlords, Tycoons, Smugglers and the Systematic Theft of Africa's Wealth, by Tom Burgis (William Collins, 2015)
If you find it hard to believe that one rather anonymous man could buy half of China's oil inputs from Angola, while $32B goes missing among the country's elites, this is the book for you. I am reminded of the US' behavior documented in John Perkins' book Confessions of an Economic Hit Man (2005).
____
Takeaway Points from This Week's Feature:
Human needs vary; therefore, the perfect Internet Assistant will use AI that accounts for this variety.
A successful implementation will provide completely different services and personalities to different users, based on the user's own needs, beliefs, abilities, and performance.
It is the relationship that determines success rather than the human or the technology.
The success of the IA is predicated upon the success of the relationship.
If serving us individually is seen as today's ultimate achievement in IA function, serving our social needs and wants is the higher level of expectations, which, once achieved, will mean real success for IA creators.

Watson's suitability for work is: Corporate, large-scale big data problems: Yes; Personal IA relationships: No.

The only product likely to approach next-generation IA success in the next year seems to be Viv.

We're in the process now of building a relationship between humans and machines, rather than between one or more products. Once we understand this, the path to success should become more straightforward.

This will be the greatest test humans have faced in their history.

We are approaching a new experience as humans, beyond learning about the world around us: how will we feel toward the machine guides taking us there?

What is the Greek word for "deep and abiding appreciation, colored by extreme dependence on remarkably consistent performance and tinged with excitement, anticipation, regret, and fear?"
...