Global Report on
Technology and the Economy
19 Years Providing Weekly Foresight
The most accurate predictive report on technology and the global economy,
read by leaders in industry, finance, and government worldwide.
| | | |
| --- | --- | --- |
| SNS Subscriber Edition | Volume 18, Issue 25 | Week of June 29, 2015 |
***SNS***
Special Letter:
The Graphene Revolution:
The Good, the Bad, and the Ugly
[Please open the attached .pdf for best viewing.]
By Will Martinez
_____
7/28/15 SAVE THE DATE 7/28/15

Exclusive for SNS members: Watch for your invitation to a private screening & fundraiser for Racing Extinction, this year's FiRe Featured Film, at the Seattle premiere of the FiReFilms Screening Club. Bonus for FiReFilms Team members only: Join us and Academy Award-winning director Louie Psihoyos for a pre-event private reception. Not a FiReFilms member yet? See benefits and sign up here for just $100 / year. We hope to see you there, in support of this critically important, suspenseful, and beautiful film we believe just may be "the film of the century."
_____
Recommended Reading: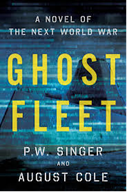 Ghost Fleet: A Novel of the Next World War, by P.W. Singer and August Cole (Eamon Dolan/Houghton Mifflin Harcourt, June 2015)
After writing a number of well-received books on the technology and strategies of warfare, SNS member Peter Singer decided to use fiction to share his concerns and knowledge about a future military conflict between China and the US. The result is an exciting, action-driven read, informed by the latest knowledge of which new weapons and strategies would play critical roles in the outcome. I strongly recommend it for all of our members. mra.
_____
Publisher's Note: I suspect that many of our members first read about graphene in the SNS Global Report. Today, there are startups worldwide, national programs in graphene commercialization and research, new laboratories for certifying graphene purity and chemical composition, a new Center of Excellence planned for creation in California, and the Graphene Stakeholders Association, co-founded by SNS member Steve Waite. (Disclosure: I am an advisory board member.)
While much has been done to accelerate research and compress development times, we are still in the early days of this long-term story which should create excitement among the entrepreneurs in the crowd. It seems as though hardly a week goes by without a new scientific discovery about graphene's growing list of electrical, chemical, and physical properties, and of their potential commercial applications.
Amid all this excitement, it is important to remain aware of what is real and what is hype, and one of this year's FiReStarter companies Nanotech Biomachines is in the perfect position of knowing what its customers are doing with, and paying for, graphene in its many applications.
Whether you are interested in computer transistors, RF transistors for cellphones, high-power batteries, more-efficient solar cells, printable electronics, flexible touch displays, wearable smart devices, or a host of other industries in which graphene now has an edge, this week's discussion by Nanotech CEO Will Martinez will likely whet your appetite for more information and steer you away from the wrong path. mra.
...