Victor Perton
Commissioner to the Americas, State Government of Victoria (Australia)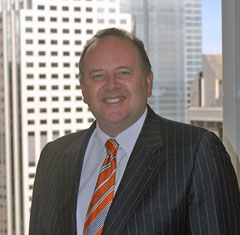 Victor Perton was appointed to the role of Commissioner to the Americas, State Government of Victoria (Australia), in February 2009. He is responsible for the Victorian Government's operations in North and South America, including bilateral trade, investment attraction, and government relations.
Before his appointment, Victor was an independent company director and advisor, a barrister, and a regulatory affairs advocate in Melbourne. His diverse portfolio included building development, argument and business case mapping, insurance, road safety, and information technology and telecommunications. Until accepting his present role in 2009, he was a member of the board of the Transport Accident Commission (TAC) of Victoria.
1998 to 2006, Victor was a member of the Parliament of Victoria for the seat of Doncaster. He served as Shadow Minister for Technology & Innovation and, in the early days of the Internet, was the first Australian Member of Parliament with a website. He also served in the education and environment portfolios. He chaired the Victorian Government's Multimedia committee, the Data Protection advisory council, the Electronic Commerce Framework group, the Law Reform committee, and the Scrutiny of Acts and Regulations committee.
Born in Melbourne, Victor holds a Bachelor of Economics/Law (Monash University, Melbourne), a Diploma of Chinese Law (Peking University), and a Masters of Law (University of Melbourne). Victor qualified as a barrister and solicitor in the High Court of Australia in 1983. He is an accredited arbitrator and mediator.
Victor has two children. His interests include human rights and democracy, politics, the impact of new technologies on society, future studies, post-soviet societies, walking, and travel.