Chris Paine
Writer and Director, Revenge of the Electric Car and Who Killed the Electric Car?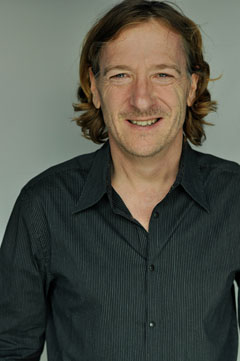 Chris Paine is the writer and director of Revenge of the Electric Car (2011) and Who Killed the Electric Car? (2006), released by Sony to become one of the more successful documentaries of recent times.
Film projects as executive producer include Mark Neale's Charge!, about electric motorcycle racing, with Ewan McGregor (2011); Faster (2003); and No Maps for These Territories (2001), about cyberpunk author William Gibson. Chris co-founded Internet Outfitters in 1995 and Mondo-tronics, a robotics materials provider for the Mars Pathfinder mission in the 1980s.
In the U.S., Chris has appeared on The Daily Show with Jon Stewart, Nightline, ABC World News Tonight, Democracy Now, and "Science Friday" on NPR. He has toured nationally to speak, including venues at Brown, Stanford, and the Matthew Shepard Symposium on Social Justice.
Chris was raised in San Francisco and studied film and international relations in New York. He co-founded the site counterspill.com in the wake of the BP oil disaster and serves on the advisory boards of the e-bike company Conscious Commuter Corp., Impro Theatre, and the Black Rock Arts Foundation.