Samir Damani
Founder & CEO, MD Revolution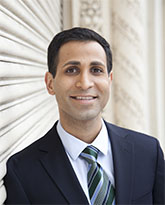 Dr. Samir Damani is a cardiologist and the founder of MD Revolution. Samir has been a "change agent" in cardiology because of his emphasis on more individualized approaches to therapy based on the patient's genetics, family history, lifestyle, and life goals. In addition to receiving a master's degree in Clinical Investigation from the Scripps Research Institute, he is one of the nation's few physicians with a doctorate in Pharmacy.
Samir led the development of RevUp, the first software platform to integrate mobile tracking, genetics, metabolic assessments, and personalized coaching for employee groups, health systems, and physician practices. He recently directed a National Institutes of Health study on biomarkers of heart attack. This and current work has resulted in several patent applications and spawned collaborations between numerous academic and commercial enterprises, including Johnson & Johnson and Scripps Health, among others.
Samir has written over 40 articles and editorial contributions, as well as three book chapters on topics related to personalized medicine. He has served as a scientific advisor for the prominent journal Science Translational Medicine and continues to serve as a reviewer for Nature Genetics, Annals of Internal Medicine, the American Journal of Cardiology, and the Journal of the American College of Cardiology.
In addition to serving as CEO of MD Revolution, Samir serves as a voluntary clinical instructor in the Department of Family & Preventive Medicine for the UC San Diego medical school, and is a practicing cardiologist for Scripps Clinic, a Top 50 ranked heart hospital by US News and World Report.