Michael Dell
Chairman and CEO, Dell Inc.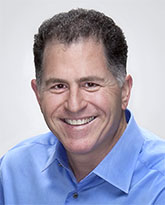 Michael Dell is the chairman of the board of directors and chief executive officer of Dell, the company he founded with $1,000 in 1984 at the age of 19. Notably quoted as saying that "technology is about enabling human potential," Michael's vision of how technology should be designed, manufactured, and sold forever changed the IT industry. In 1992, Michael became the youngest CEO ever to earn a ranking on the Fortune 500.
Today, Dell Inc. is composed of more than 100,000 team members who serve the IT needs of global corporations, small and medium businesses, governments, healthcare providers, educational institutions, and home computing users. From PCs to the infrastructure, software, and services that power the world's most complex data centers and cloud computing environments, Dell's broad range of IT services and solutions has helped millions of customers around the world achieve the outcomes that are most important to them.
In 1998, Michael formed MSD Capital, and in 1999, he and his wife established the Michael & Susan Dell Foundation to provide philanthropic support to a variety of global causes.
Michael is an honorary member of the Foundation Board of the World Economic Forum and is an executive committee member of the International Business Council. He is also a member of the Technology CEO Council, the U.S. Business Council, and the Business Roundtable. He serves on the governing board of the Indian School of Business in Hyderabad, India, and is a board member of Catalyst.