Marty Tenenbaum
Founder and Chairman, Cancer Commons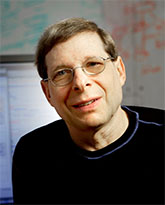 Jay (Marty) Tenenbaum, Ph.D., is the founder and chairman of Cancer Commons, a nonprofit network of cancer patients, physicians, and scientists dedicated to improving outcomes through precision oncology. The mission of Cancer Commons is to ensure that patients are treated in accord with the latest knowledge, and to continually update that knowledge based on each patient's response.
Marty brings to Cancer Commons the unique perspective of a computer scientist, Internet commerce pioneer, and cancer survivor. He was founder and CEO of Enterprise Integration Technologies, the first company to conduct a commercial Internet transaction (1992), secure Web transaction (1993), and Internet auction (1993). In 1994, he founded CommerceNet, a global consortium, to accelerate business use of the Internet. In 1997, he co-founded Veo Systems, the company that pioneered the use of XML for automating business-to-business transactions.
Marty joined Commerce One in January 1999, when it acquired Veo Systems. As chief scientist, he was instrumental in shaping the company's business and technology strategies. Post-Commerce One, he was an officer and director of Webify Solutions, which was sold to IBM in 2006; and Medstory, which was sold to Microsoft in 2007.
Marty was also the founder and chairman of CollabRx, a provider of Web-based applications and services that help cancer patients and their physicians select optimal treatments and trials (NASD: CLRX).
Earlier in his career, Marty was a prominent AI researcher and led AI research groups at SRI International and Schlumberger Ltd. He is a fellow and former board member of the American Association for Artificial Intelligence and a former consulting professor of Computer Science at Stanford.
Marty currently serves as a director of CommerceNet, Efficient Finance, Patients Like Me, and the Public Library of Science. His work on behalf of melanoma patients has been honored with the Melanoma Research Foundation's Legends for a Cure Humanitarian Award and the Society for Melanoma Research's Advocate for Progress Award.
Marty holds BS and MS degrees in Electrical Engineering from MIT and a Ph.D. from Stanford.