James Rogers
CEO, Apeel Sciences Inc.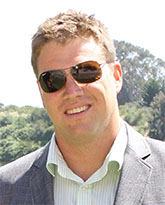 James Rogers is the founder and CEO of Apeel Sciences Inc. (www.apeelsciences.com). Apeel Sciences uses natural plant extracts to create a formulation that is applied to the surface of fresh produce in order to extend shelf life without the need for refrigeration.
James received dual undergraduate degrees from Carnegie Mellon University in Materials Science & Engineering and Biomedical Engineering. Supported by a National Science Foundation Graduate Research Fellowship, he received his Ph.D. in Materials Science from the University of California - Santa Barbara. For his Ph.D. research, James was the recipient of the 2012 Frank J. Padden Jr. Award for polymer physics, the premier polymer physics prize in the United States.
James is a graduate of the UC Santa Barbara Technology Management program and also holds a master's degree in Economics.