Eliot Peper
Novelist / Strategist, Entrepreneur and Venture Capitalist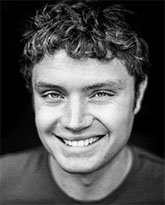 Eliot Peper is a novelist and strategist based in Oakland, California. He writes fast-paced, deeply researched stories with diverse casts that explore the intersection of technology and society.
Cumulus is a dark, gritty science fiction story set in a future San Francisco Bay Area ravaged by economic inequality and persistent surveillance. Neon Fever Dream is about a dark secret hidden in the swirling dust and exultant revelry of Burning Man. His first three books constitute The Uncommon Series, which has attracted a cult following in Silicon Valley and is the #1 top-rated financial thriller on Amazon (think tech startup meets Panama Papers). He is currently working on his sixth novel.
Eliot has helped build numerous technology businesses, survived dengue fever, translated Virgil's Aeneid from the original Latin, worked as an entrepreneur-in-residence at a venture capital firm, and explored the ancient Himalayan kingdom of Mustang. He's been featured in Popular Science, Businessweek, TechCrunch, Gizmodo, Ars Technica, Forbes, Entrepreneur, VentureBeat, Xconomy, and numerous other publications.