Rick LeFaivre
Director, Ketchum Innovation Center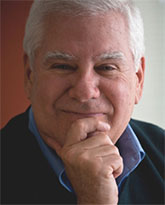 Rick LeFaivre, PhD, has 40+ years of accomplishment as a computer scientist, professor, R&D executive, venture investor, and board member working at leading universities, high-technology companies, and venture-capital firms. He now resides in Sun Valley, Idaho, and focuses primarily on board work, currently serving on the boards of Pattern Computer Inc., the Pacific Northwest National Laboratory Energy and Environment Directorate, the Sun Valley Economic Development organization, and the Ketchum Innovation Center, where he is board chair.
Before moving from Seattle to Sun Valley, Rick was a partner at OVP Venture Partners, where he started the firm's clean-energy practice. He also served on the University of Washington College of Engineering and Information school visiting committees, the Pacific Northwest Energy Angels advisory board, the Washington State Energy Strategy Advisory Committee, the Washington State Economic Development Commission (appointed by the governor of Washington), and the boards of directors of WatchGuard Inc. (until the company was taken private in 2006) and the Carbon Design Group, which was sold to Facebook in 2014.
Previously, Rick served as VP of the Advanced Technology Group at Apple Computer and as SVP of R&D and CTO at Borland International; he held R&D leadership positions at Silicon Graphics, Sun Microsystems, and Tektronix. He was a founding partner at IdeaEdge Ventures, a San Diego-based venture development organization; and a founding board member of the Software Patent Institute, which advises the government on issues related to software patentability, and CSNET, which evolved into NSFNET and, ultimately, today's internet.
Rick started his career as a professor in the Computer Science department at Rutgers, teaching and carrying out research in artificial intelligence and advanced programming technology. He later returned to campus as executive director of the Von Liebig Center for Entrepreneurism at the University of California-San Diego, and as director of Technology New Ventures at the University of Washington Center for Commercialization, focused on the effective commercialization of university-developed technology. He was also the founding chair of the University of Wisconsin Computer Sciences board of visitors.
Rick received his AB with honors in Mathematics from the University of Missouri and his PhD in Computer Sciences from the University of Wisconsin. He has published extensively in the computer-science literature, has served on a number of industry and academic advisory boards, and has testified before the Congress of the United States on matters of technology policy.