Nidhi Singh
Director, Biomedical Sales and Marketing, Pattern Computer Inc.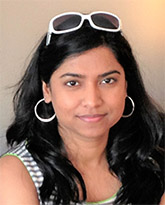 Nidhi Singh, PhD, is the director of Biomedical Sales and Marketing for Pattern Computing Inc. (PCI). She is a pharmaceutical industry scientist and cross-functional team leader, experienced in designing strategies for computational chemistry / biology R&D projects with a track record of delivering drug candidates in clinical development. She is affiliated with, and collaboratively interacts closely with, researchers at Lawrence Berkeley National Laboratory - Life Sciences Division. Prior to PCI, she worked as a senior scientist in Computational Drug Discovery at TransTech Pharma Inc. (now vTv Therapeutics Inc.), a clinical-stage pharmaceutical company.
Nidhi holds a PhD in Computational Chemistry from the University of Mississippi and a postdoctoral fellowship in Computational Biophysics with Nobel laureate Arieh Warshel at the University of Southern California.
Nidhi has broad expertise in applying computational approaches to the discovery and optimization of bioactive small-molecules and biologics. Her primary areas of interest are molecular dynamics, Monte Carlo sampling, quantum chemical calculations, free-energy perturbation simulations, virtual screening, pharmacophore modeling, comparative modeling, and pharmacological property prediction. At PCI, she is involved in translating technologies into product concepts, perform product, and market assessment, leading to viable value proposition and business models.
Nidhi has authored over 30 scientific publications and presentations, two book chapters, and a patent. She is the recipient of multiple awards, including the Natural Products Neuroscience fellows award from the Center of Excellence in Natural Products Neuroscience (CORE-NPN) and the Women in Science and Engineering (WiSE) award from the University of Southern California.