Michael Kurisu
Director, UCSD Center for Integrative Medicine; and Director, Project Apollo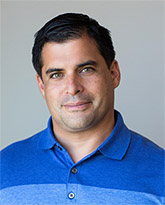 Michael Kurisu, DO, is an osteopathic family physician with extensive training in an array of hands-on techniques for the diagnosis and treatment of many different chronic disease states. The internal capacity to heal is the cornerstone of Michael's approach to medicine. He has received training in the alternative health field as well as conventional allopathic medicine, allowing him to integrate all aspects of health as it pertains to each patient.
Michael is board-certified in family medicine and also in holistic and integrative medicine. He trained at the University of California - San Diego and currently is clinical director for the Center for Integrative Medicine at UCSD, as well as director of Clinical Training at the Osteopathic Center San Diego. He applies evidence-based integrative therapies for management of complicated, chronic disease states and works closely with many different healthcare practitioners in the community. He is also very interested in the future direction of medicine partnering with patients toward health and healing. This has inspired him to be the founder of Project Apollo and the 501c3 Precision Healthcare Ecosystem, which enables patients to take greater control of their health.
Michael holds faculty positions and teaches at several different national and international medical schools. He thoroughly enjoys teaching, surfing, and spending time with his wife, his two sons, and his dog.