Kim Stanley Robinson
Science Fiction Author,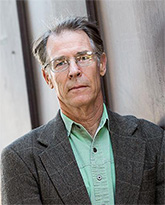 Kim Stanley Robinson is an American science fiction writer. He is the author of more than 20 books, including the international bestselling Mars trilogy, and more recently Red Moon, New York 2140, Aurora, Shaman, Green Earth, and 2312. He was sent to the Antarctic by the US National Science Foundation's Antarctic Artists and Writers' Program in 1995 and returned in their Antarctic media program in 2016.
In 2008, Kim was named a "Hero of the Environment" by Time magazine. He works with the Sierra Nevada Research Institute, the Clarion Writers' Workshop, and UC San Diego's Arthur C. Clarke Center for Human Imagination. His work has been translated into 25 languages and won a dozen awards in five countries, including the Hugo, Nebula, Locus, and World Fantasy awards. In 2016, asteroid 72432 was named "Kimrobinson."