George Dyson
Author (Turing's Cathedral) and Historian of Technology,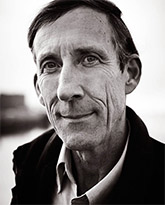 George Dyson is a historian of technology whose interests have included the development (and redevelopment) of the Aleut kayak (Baidarka, 1986), the evolution of digital computing and telecommunications (Darwin Among the Machines, 1997), and a path not taken into space (Project Orion, 2002). His recently published Turing's Cathedral: the Origins of the Digital Universe (Pantheon/Penguin, 2012) illuminates the transition from numbers that mean things to numbers that do things in the aftermath of World War II.
George, a dual citizen of the United States and Canada who lives in Bellingham, Washington, has contributed articles to Scientific American, Nature, Forbes, Discover, Wired, and Make magazines. His kayak designs have been built by thousands of followers, and his books have been translated into seven languages. James Michener praised Baidarka as "a grand, detailed book that will be a standard for years to come"; Oliver Sacks wrote that Darwin Among the Machines was "a very deep and important book, beautifully written... as remarkable an intellectual history as any I have read"; and Arthur C. Clarke describes Project Orion as "essential reading for engineers/scientists involved with government bureaucracies and the notorious Military Industrial Complex... also vice versa."
Turing's Cathedral, the result of 10 years of work, is the story of one of the most innovative chapters in the history of computing - a project "that was completed in less time than it took me to write about it," in Dyson's words. "If you want to be mentally prepared for the next revolution in computing, Dyson's book is a must read," writes John Gribbin in the April 2012 Literary Review. "But it is also a must read if you just want a ripping yarn about the way real scientists (at least some real scientists) work and think."