Janine Benyus
Biologist, Innovation Consultant, and Author, Founder, Biomimicry Institute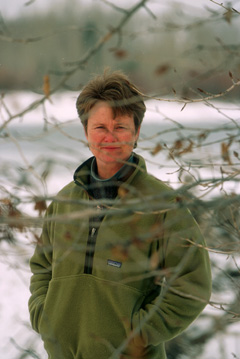 Janine Benyus is a biologist, innovation consultant, and author of six books, including her latest - Biomimicry: Innovation Inspired by Nature. In Biomimicry, she names an emerging discipline that seeks sustainable solutions by emulating nature's designs and processes (e.g., solar cells that mimic leaves). Since the book's 1997 release, Janine has evolved the practice of biomimicry, consulting with sustainable businesses and conducting seminars about what we can learn from the genius that surrounds us. Her favorite role is biologist-at-the-design-table, introducing innovators to organisms whose well-adapted designs have been tested over 3.8 billion years.
In 1998, Janine co-founded a bio-inspired innovation consultancy called Biomimicry Guild. Clients have included Arup Engineers, Carollo Engineers, Consorta, Fox and Fowle Architects, General Electric, Gensler Architects, Hewlett-Packard, HOK Architects, IDEO, Interface, Kohler, Levi's, NASA, Nike, Norm Thompson, Novell, Patagonia, S.C. Johnson, Herman-Miller, and Shore Bank Pacific Bank. As a result of working with the Biomimicry Guild, the world's largest commercial carpet manufacturer (Interface Inc.) introduced Entropy™, a carpet inspired by random pattern formation in nature. In record time, Entropy™ rose to become Interface's top-selling line of carpet, representing 40% of its carpet tile sales.
Janine is currently creating a Google of Nature's Solutions in collaboration with Rocky Mountain Institute - a public database of biological literature organized by engineering function. She is also developing a "biology-taught-functionally" course for engineers and designers, the only biology most will encounter in their university education. To help further biomimicry education and research, she recently founded the nonprofit Biomimicry Institute.