Bruce Sterling
Science Fiction Author,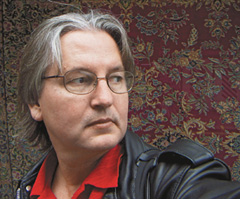 A native of Austin, Texas, Bruce Sterling is best-known as a science-fiction writer, Net critic, and internationally recognized cyberspace theorist. His novels Involution Ocean, The Artificial Kid, Schismatrix, Islands in the Net, and Heavy Weather helped define the cyberpunk literary movement. He co-authored with William Gibson the novel The Difference Engine, is one of the founders of the Electronic Frontier Foundation, and is the editor of "Mirrorshades" and co-editor of The Cyberpunk Anthology.
Others among Bruce's dozens of best-known fiction and nonfiction publications are Zeitgeist, Distraction, Holy Fire, The Hacker Crackdown, and Tomorrow Now. He has also been the inspiration for, or instigator of, several Web-focused projects, notably:
The "Dead Media Project": A collection of "research notes" on dead media technologies, from Incan quipus, through Victorian phenakistoscopes, to the departed video games and home computers of the 1980s. The project's homepage, including Bruce's original "Dead Media Manifesto," is at www.deadmedia.org.


The "Viridian Design Movement": A proposed "green" movement that focuses on high-tech, stylish, and ecologically sound design. The Viridian Design homepage, including Bruce's "Viridian Manifesto," is at www.viridiandesign.org.


"Embrace the Decay": Commissioned by the LA Museum of Contemporary Art in 2003, a Web-only artwork that resulted in the highest number of visits to MOCA's Digital Gallery.
Bruce has lived for extended periods in India, Belgrade, and most recently Turin, Italy. In 2003, he was appointed as a professor of media and design at the European Graduate School, and he accepted the role of "visionary in residence" at the Art Center College of Design in Pasadena, California, in 2005.