Paul Jacobs
Chairman and CEO, Qualcomm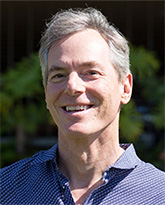 Dr. Paul E. Jacobs is chairman of Qualcomm's board of directors and the company's chief executive officer. A leader in the field of mobile communications for over two decades and a key architect of Qualcomm's strategic vision, Paul's responsibilities include leadership and oversight of all the company's initiatives and operations.
Through his technology innovations and advocacy, Paul spearheaded Qualcomm's efforts to develop and commercialize mobile technology breakthroughs that have contributed significantly to the growth of both the company and the industry. Important developments that began under Paul include: the first Palm OS®-based smartphone; inclusion of GPS capabilities in mobile phones (which led to the acquisition of SnapTrack™ and Qualcomm's development of gpsOne™ position-location technology); the Brew® system, which enables over-the-air downloading of applications; QChat, a Voice over IP, push-to-talk system; and mirasol®, an advanced reflective display technology.
In 1996, Paul was named senior vice president of the company and in 1997, president of QCP. Under Paul, QCP (prior to its sale to Kyocera Wireless in 2000) moved into the No. 2 CDMA handset supplier position in the U.S. In 2000, Paul was named executive vice president of Qualcomm and in 2001, group president of Qualcomm Wireless & Internet (QWI), where he oversaw Qualcomm Technology Licensing, Qualcomm Internet Services, MediaFLO USA Inc. and MediaFLO technology development, Qualcomm MEMS Technologies, Qualcomm Enterprise Services, Qualcomm Government Technologies, and Qualcomm Technology & Ventures. As Qualcomm executive vice president, he was also responsible for administering the company's corporate marketing functions and standards organization. Paul became CEO in July 2005 and was appointed chairman in 2009.
Following the completion of his Ph.D. in 1989 and a year as a post-doctoral researcher at a French government lab in Toulouse, Paul joined the company full-time in 1990 as a development engineer leading the mobile phone digital-signal processor software team. Five years later, he became vice president and general manager of the combined handset and integrated circuit division, which was subsequently divided into Qualcomm Consumer Products (QCP) and Qualcomm CDMA Technologies, respectively.
As an innovative leader of a broad range of technical teams within Qualcomm, Paul has been granted more than 40 patents for his inventions in the areas of wireless technology and devices. He serves on the board of directors for A123Systems; is chairman of the advisory board of the University of California, Berkeley, College of Engineering; is a trustee of the Museum of Contemporary Art San Diego; and is a member of the US-India CEO Forum and the Young Presidents' Organization.
Paul received his bachelor's (1984) and master's (1986) degrees, as well as his doctorate (1989), in Electrical Engineering from the University of California, Berkeley, and subsequently endowed the Paul and Stacy Jacobs Distinguished Professor of Engineering chair at the school. He is a member of the Phi Beta Kappa, Eta Kappa Nu, and Tau Beta Pi honor societies.
Paul is a recipient of a number of industry, academic, and corporate leadership awards, including:
2011 NCAFP Global Business Leadership Award
2011 Laptop Magazine: 25 Most Influential People in Mobile
2010 Higginbotham Corporate Leadership Award
2009 IEEE CASS Industrial Pioneer Award
2008 Radio Club of America: The Sarnoff Citation
2008 Berkeley Engineering Innovation Award
2007-2010: Institutional Investor, List of America's Best (Telecom Sector): Best CEO