Fred Lee
Director of Clinical & Translational Informatics, Oracle Health Sciences; and Fellow, P4 Medicine Institute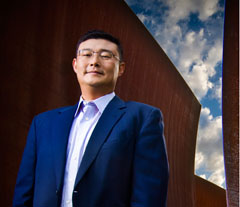 Frederick Lee, M.D., MPH, leads business development strategies in clinical and translational informatics and personalized healthcare for Oracle's Health Sciences Global Business Unit. He has helped establish and grow the burgeoning field of personalized healthcare through his ability to merge perspectives from the life sciences, healthcare delivery, clinical informatics, and public health.
Prior to Oracle, Fred was the founding executive director and chief medical officer of the P4 Medicine Institute, a translational innovation consortium dedicated to creating a predictive, preventive, personalized, and participatory future of healthcare. In this role, he helped establish Lee Hood's vision of P4 Medicine by developing partnerships between systems biology and major academic health centers. He continues to play a key role in P4 Medicine, as the first official Fellow of the P4 Medicine Institute.
Fred brings a unique and broad range of professional experiences to the task of creating healthcare of the future, having spent time as a practicing clinician, as a healthcare executive, and as an industry technologist. From the industry perspective, Fred led product strategy efforts for McKesson Corp. in its Provider Technologies division, focusing on enhancing electronic health records to support genomic and molecular medicine. He has also held leadership roles in General Electric Healthcare, leading product strategy for GE Healthcare Information Technologies in the U.K. while working on the U.K.'s National Health Service Connecting for Health program.
Fred has held executive leadership roles in health systems in the New York / Long Island area, as a chief operating officer, and as a chief medical information officer of a large ambulatory care network in New York.
Fred's clinical background is in general surgery and preventive medicine. He received a BS from the Massachusetts Institute of Technology in Life Sciences, an MD and residency training from the Stony Brook University School of Medicine, and a Masters in Public Health degree from the Mailman School of Public Health at Columbia University.