Cynthia Figge
CEO and Cofounder, CSRHub and EKOS International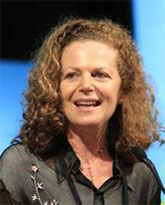 Cynthia Figge is a forerunner, entrepreneur, and thought leader in the corporate sustainability movement. Cynthia is CEO and co-founder of CSRHub, a leading big-data ESG (environment, social, governance) information platform. CSRHub provides consensus ratings on the performance of 18,000 companies worldwide and serves the corporate, financial, and academic sectors and API partners.
Cynthia co-founded EKOS International in 1996, one of the first consultancies integrating sustainability and corporate strategy. She has worked with major organizations including Boeing, Coca-Cola, Dow Jones, and REI to help craft sustainability strategy integrated with business. Cynthia is a national speaker on trends in ESG, corporate social responsibility (CSR), and business intelligence.
Prior to becoming an entrepreneur in CSR/ESG, Cynthia was an officer of LIN Broadcasting / McCaw Cellular, leading new services development. She serves as an advisor to media and technology companies and is chair of Compassionate Action Network (CAN). Cynthia has an MBA from Harvard Business School. She is based in the Seattle area.