Cynthia Figge
CEO and Cofounder, CSRHub and EKOS International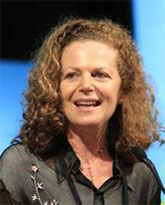 Cynthia Figge's expertise is in new venture development and sustainability. She is a forerunner and thought leader in the corporate sustainability movement. Cynthia is CEO and co-founder of CSRHub, the world's largest database on ESG (social, environmental, and governance) performance of 17,500 companies to provide sustainability ratings and business intelligence to professionals, academics, and API partners. In 1996, she co-founded EKOS International, one of the first consultancies integrating sustainability and corporate strategy. Cynthia has worked with major organizations, including Boeing, BNSF, Coca-Cola, and REI, to help craft sustainability strategy integrated with business.
Cynthia is also co-founder of Arrowsmith Technologies Corp., a Seattle-based biotechnology company. Prior to founding CSRHub and EKOS, she was an officer of LIN Broadcasting / McCaw Cellular, leading new services development; started a new "greenfield" mill with Weyerhaeuser; was part of the turnaround team for the New York Daily News; and with New Ventures, helped diverse nonprofit organizations in New York City start for-profit ventures to support their mission.
Cynthia is the board chair of Compassionate Action Network, an advisor to Strategic News Service's Future in Review conference and other media and technology companies, and served as president of the board of Sustainable Seattle. She has presented at the following annual conferences: Boston College Center for Corporate Citizenship, Outsell, Notre Dame GAIN, SNS Future in Review, Sustainable Brands, SB New Metrics, Skytop Strategies CSR 2.0, Sustainatopia, Seattle University's Just Sustainability, SRI Conference, and TEDx.
Cynthia received a bachelor's degree in Economics from Lawrence University and an MBA from Harvard Business School. Cynthia lives in the Seattle area.