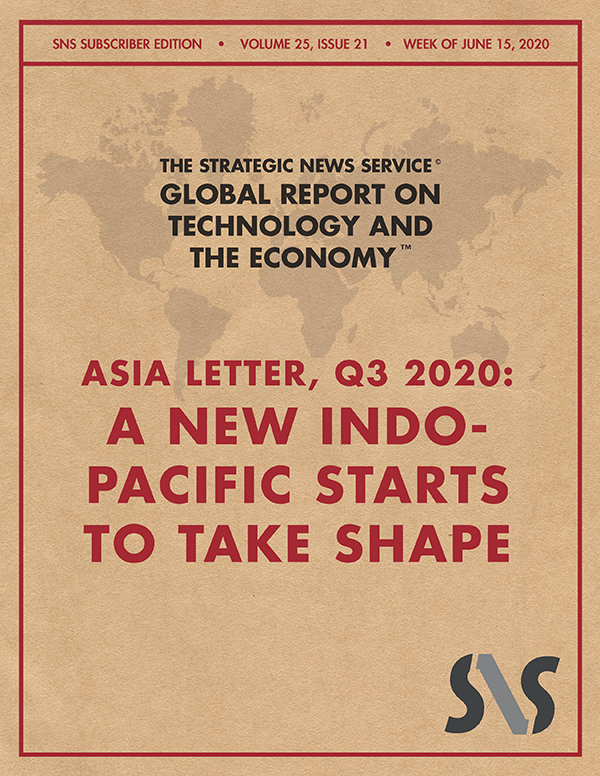 In This Issue
Vol. 25 Issue 21

SNS: Asia Letter, Q3 2020

A NEW INDO-PACIFIC
STARTS TO TAKE SHAPE

By Scott Foster

Publisher's Note:As we have come to expect, Scott Foster has again captured the early winds of change in Asia, this time as its neighbors shift partially away from China. The free-trade pacts between European countries and free Asian countries is exciting, and new, and worth taking note of.

Almost overnight (as in, since COVID-19 began), we are seeing a new chill in relations between ASEAN countries and China, even as business begins to pick up.

For members interested in Asian and Pacific trading partners - and in how Germany and the UK are taking different paths - this week's issue is exactly what you'll need to read. My thanks to Scott, as always. Onward - mra

_________


Rush Hour Returns to Tokyo

In the first week of June, the 18-kilometer Yamate Tunnel that runs around the west side of downtown Tokyo was as empty during the morning and evening "rush hours" as it usually is at 3 am. An artery connecting expressways leading to all points of the compass and into the center of the city, the tunnel is a barometer of economic activity. Delivery trucks and passenger cars had nearly disappeared. Driving around to the Bayshore route and south toward Yokohama was quick and easy.

Two weeks later, rush hour is back, and traffic during peak hours has slowed to a crawl (but not to a dead halt, leaving room for further "progress"). Restaurants and fitness clubs have reopened, and travel to other prefectures is no longer officially discouraged.

Overseas travel is a different matter.

...