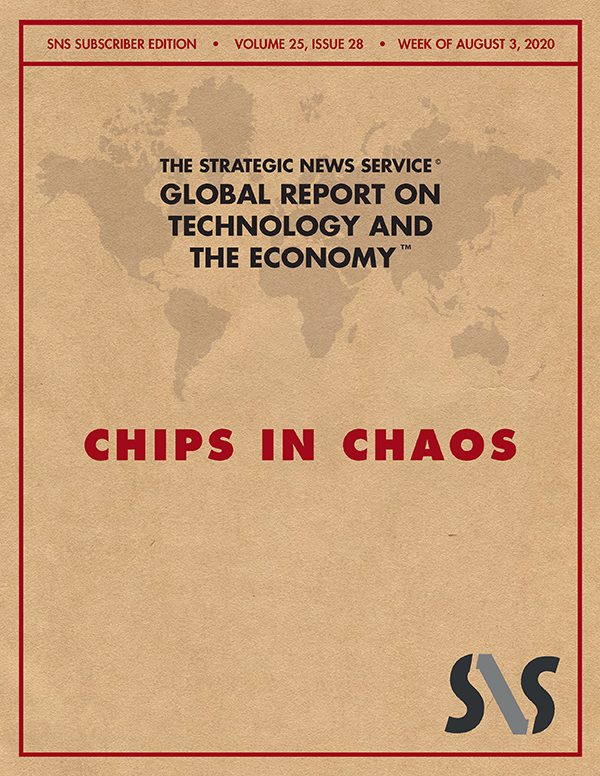 Strategic News Service, the first paid subscription newsletter on the internet, was started 25 years ago.

New! In honor of our 25th birthday, we're launching a new community platform (surprise!); hosting a new FiReSide Event every month, allowing members an intimate conversation with global leaders; providing a FREE cocktail party this coming Thursday at 2:30-4:00 PT (5:30-7:00 ET), kicked off by David Brin's first-ever interview of Mark Anderson, on the subject of "The Art and Science of Predicting"; holding an extremely valuable contest (see below); adding a new shop for members so they can look even cooler in their next Teams meetings; and generally continuing a year-long celebration to carry us into the next 25 years.

Win a Lifetime SNS Premium Membership!

Estimated value: $80,550 (if you are 12, and live to 102).

Submit your favorite SNS moments from the last 25 years for a chance to win a free lifetime SNS membership. Let us know how SNS has helped you, your career, and/or your family, or your description of a meaningful moment or event in the past 25 years of SNS reports and meetups. Email your entry by this Wednesday, July 29, to berit@stratnews.com. We'll announce the winner at the Thursday cocktail party. (By entering, you give SNS permission to publish your submission for editorial or promotional purposes.)

In This Issue
Vol. 25 Issue 28

chips in chaos

by Mark Anderson

"You may not be aware of it, but I am an apprentice of yours." - Paul Dlugosch, founding CEO of Micron spinout Natural Intelligence Systems, to Mark Anderson in a recent phone call

"Your SNS issue describing the Pattern Recognition Processor was prophetic." - Dharmendra Modha, IBM, and DARPA project lead for the TrueNorth processor

I was sitting with a few friends - outdoors, and socially distanced - in the private place we call The Precipice Bar, so named because, when you look over the edge, there is nothing there.

I had just had a small revelation, which I shared in hope of feedback: "If the effects of the internet and social networks, with bots and foreign players seeding division, is added to endless global protests and a general taking-down of the structures of society - doesn't that create a massive opportunity for criminals, frauds, and other bad actors? In other words, if we break down the rules and regulatory systems, and their ability to enforce, doesn't that just lead to the biggest candy shop criminals have ever seen?"

The consensus seemed to be Yes. It's always possible, of course, that the precipice had affected our thinking.

---

In the world of technology, it has been true since the days of Fairchild Semiconductor that chips drive everything. When we at SNS created the economic theory we call Hyperstructural Economics (ca. 1998), it was our way of sharing the idea that there was not only a technical connection between chips and the machines they powered, but also between the economic fates of that machine's (or industry's) supply chain. Companies that locked into Intel's (or IBM's, Motorola's, etc.) chipsets got their own products put into personal computers, and their economic stories were physically, technically, and financially matched to Intel's.

The highly structured world that Intel led, back then, was therefore understandable, predictable, and relatively stable, and allowed for the extremely high growth rates of the day. Bill Gates dreamed of a computer on every desktop, and we each got one (almost).

In this week's issue, we'll take a very fast run through how this all changed, and where we can expect to go next. Spoiler alert: Everything has changed, technology shifts have put the economic aspects of the industry upside-down, and the future of the chip industry has become chaotic. What does this mean for the machines chips drive, or the countries that make, buy or sell them? Read on.

...