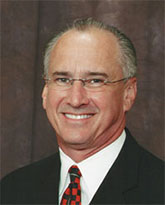 Sig Hutchinson, M.Ed., is known in Wake County, North Carolina, for his efforts preserving open space, protecting water and air quality, expanding our world-class greenway system, and promoting multi-modal transportation. Sig has successfully led four bond referendums totaling more than $140 million in Wake County for Open Space Preservation, in 2000, 2004, and 2007, and in 2003 in the City of Raleigh for Parks and Greenways, and has been the driving force behind the creation of what will soon be more than 100 miles of interconnected greenways throughout the Triangle.
Sig is the president of Sig Hutchinson Communications LLC, which offers sales consulting, presentation skills training, and speaker training, and he speaks professionally about the transformational nature of communities and organizations. He is also a co-founder of the Raleigh Downtowner and is known locally as "Mr. Greenjeans."
Sig is an avid volunteer and has been the recipient of numerous awards, including Volunteer of the Year (Wake County), Green Advocate of the Year (Triangle Business Journal), and the A.E. Finley Distinguished Service Award (Greater Raleigh Chamber of Commerce).