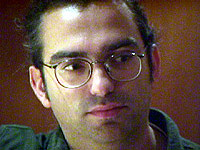 Oliver Morton is a writer and editor who concentrates on scientific knowledge, technological change, and their effects. He is currently the chief News and Features editor at Nature, one of the world's leading science journals, supervising its journalistic output in print and online.
From 1997 to 2005, Oliver worked as a freelancer, spending much of the time as a contributing editor at Wired, and some of it in the same role at Newsweek International. His writing has also appeared in The New Yorker, National Geographic, Discover, and The American Scholar; in the journals Nature and Science; in newspapers including The New York Times, The Financial Times, The Guardian, and The Wall Street Journal; in the British magazines New Scientist and Prospect, where he's a member of the advisory board; and in a variety of other places, including The Hollywood Reporter (alas, only onceÖ). His blog, in hiatus, can be found at www.mainlymartian.blogs.com.
From 1987 to 1995, Oliver worked on the science and technology pages of The Economist, and from 1995 to 1997 he was editor-in-chief of Wired UK, Wired's European sister magazine. In 2001 he worked as a writer and editor on "Improving Health Outcomes for the Poor," a report prepared for the WHOís Commission on Macroeconomics and Health under Jeff Sachs.
Oliverís first book, Mapping Mars: Science, Imagination and the Birth of a World, was published in 2002 by Picador (U.S.) and Fourth Estate (U.K.). It deals with scientific and other ways of understanding a place that cannot at present be visited. It received good reviews and was shortlisted for both the Guardian First Book Award and the British Science Fiction Award for best related book. Oliver was also one of the authors of SAFE, a book on technology and terrorism published by HarperCollins in 2005, and he is currently writing Eating the Sun: How Plants Power the Planet, a look at photosynthesis that tries to bring out connections between what goes on at the molecular, human, and planetary scales. It should be published by Fourth Estate in spring 2007.
As well as writing about planetary and earth systems science, Oliver also maintains interests in molecular biology, fundamental physics, global public health issues, the technologies of manufacturing, entertainment and warfare, science fiction, climate change policy, and, now and then, industrial design. He's won the annual science writing award administered by the Association of British Science Writers twice, and also the David N. Schramm award from the American Astronomical Society. His articles have been anthologized in Best American Science Writing and Best American Science and Nature Writing, and his only published science fiction in Yearís Best SF (forthcoming). He's a consultant to the Near Earth Object working group of the International Astronomical Union and occasionally to the EU's NEST program. Heís a founding fellow of the Hybrid Vigor Institute, a not-for-profit organization devoted to studying and fostering successful interdisciplinary research, and is a member of the World Technology Network.
Oliver has a degree in the History and Philosophy of Science from Cambridge University and normally lives with his wife in Greenwich, England. Asteroid 10716 Olivermorton is named in his honor.