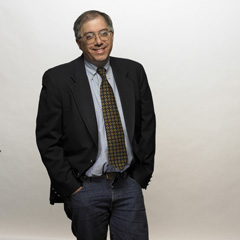 Steven Levy began writing about technology, the people who make it, and its effects on all of us in 1981, and has been pursuing this fascinating story ever since. After years of freelancing and writing books, he joined Newsweek in 1995, where he worked as senior editor, chief technology correspondent, and writer of a column called "The Technologist." In late June 2008, he joined Wired magazine as a full-time writer, after having been on the masthead as a contributor since the first issue.
Steven has written six books, beginning with Hackers, which PC Magazine named the best sci-tech book written in the last 20 years. His penultimate (so far) book, Crypto, won the Grand eBook prize at the 2001 Frankfurt Book Festival. Most recently, he wrote The Perfect Thing, a book about the iPod and its reverberations in the business and cultural world, as well as in your ear. (He's been on the story since day one, and did a well-circulated Newsweek story on it in July 2004 entitled "iPod Nation."
Steven's stuff has appeared in a wide range of publications, including the New Yorker, the New York Times Magazine, Harper's, and Premiere. Before focusing on technology, he wrote about a variety of subjects: he was a rock critic at weekly papers (he interviewed Bob Marley and Bruce Springsteen, though not together), covered sports, and tackled other subjects ranging from a shot-by-shot analysis of a scene from Millers Crossing to the New York Times wedding announcements.
In 2006, his Wired profile of publisher and Internet guru Tim O'Reilly was included in Best of Technology Writing 2006, an anthology of tech writing. He accepted the assignment to edit the next collection; and in Fall 2007, the digitalculture imprint of the University of Michigan published The Best of Technology Writing 2007.
Steven grew up in Philadelphia and attended Temple University before receiving an M.A. in Literature at Penn State. (He was chosen to receive Penn State's first Distinguished Alumni Award from the English Department.) He now lives in New York City and western Massachusetts with his wife, Pulitzer Prize-winning journalist and author Teresa Carpenter, and their teenage son.
In January 2001, Steven published Crypto (Viking), a book that tells the fascinating - and important - story of the revolution in cryptography. His next book is about Google, a look informed by a two-year deep dive into the company, which will appear in early 2011.