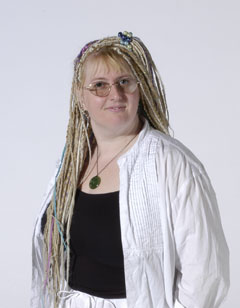 Mary Branscombe is a freelance journalist covering technology _ anything from a mobile phone to a mainframe, if it makes a difference to people. She writes for a wide range of titles, from the Financial Times and the Observer to technology titles like ZDNet and PC Plus; consumer titles like T3, PC Advisor, TechRadar, and Tom's Hardware; and a long list of others, because she likes to watch technology across the whole marketplace. She also edits a magazine called IT Expert, aimed at consultants working with small-business IT (and yes, she launched a new paper magazine long after the "death of paper").
Mary matches the categories that say she doesn't match the categories. Her education was always a mix of arts and sciences, and she went from a degree in Literae Humaniores (with a side order of first-order logic) at St Hilda's College, Oxford, to a master's degree in Intelligent Knowledge-Based Systems to make sure she'd know what she was talking about as a journalist. She is interested in the how, the what, and the why of technology: how and why it works (and why it works that way); why anyone would use it; what it does for you.
Mary has worked in-house on magazines (at Future Publishing, from a weekly news title to a monthly PC magazine, with a stint on the earliest Mac design title) and at AOL, where she ran the technology channel for the U.K. for five years. Since going freelance in 2001, she's written for more titles than she can easily count _ mostly on technology, but with a little writing about food and science fiction on the side. She is an optimist, a cynic, and a perpetual semi-outsider who finds everything interesting.