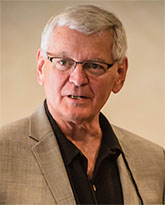 David Morris is currently managing director of Elysian Essentials LLC. Prior to Elysian Essentials, David was engaged in Business Development for the Strategic News Service (SNS) and the SNS Global Report, the world's most reliable source of advanced information at the intersection of technology and the economy.
David has been involved in leadership positions in established companies as well as embryonic startups, serving as president and CEO of several companies, and has lived abroad working in Eastern and Western Europe, the Middle East, and Africa. David created and served as the president of the American Methanol Institute from 1988 to 1990. He was named a member of the Alternative Fuels Council in Washington, DC, from 1989 to 1990.
David holds BS and master's degrees in Textile Business Management from the Georgia Institute of Technology. He resides in Park City, Utah, with his wife, Sharon, and dogs Lucy and Simon.