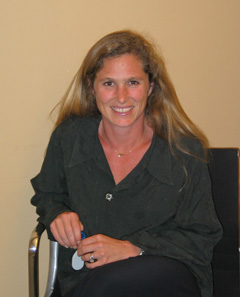 Suzanne is the executive director of the Salesforce Foundation. In this role, Suzanne directs all Foundation activities and serves as the liaison to community, business, and government organizations. Under her leadership, the Foundation has won a number of awards for excellence in philanthropy, including the 2002 Points of Light Award for Excellence in Corporate Community Service, the 2003 U.S. Chamber of Commerceís Corporate Stewardship Award, and the Full Circle Fund Award for Corporate Social Responsibility in 2005.
Before joining Salesforce Foundation, Suzanne was a principal at CSC Consulting Group in the Strategic Services division. In this role, she worked with leaders in Fortune 500 companies to assist them in developing strategies for improved organizational performance and enhanced leadership capabilities.
Prior to this, Suzanne was the program and marketing director for Partners for Democratic Change, a nonprofit organization whose mission is to provide skills for effective conflict management and alternative dispute resolution to NGOs and government officials in Central and Eastern Europe. In this role, she directed program and grants management activities and marketing events for the company.
Suzanne is a graduate of the University of Colorado at Boulder, with a BA in Communications and Economics. She is an active volunteer in the community and serves on a number of advisory councils for nonprofits around San Francisco.