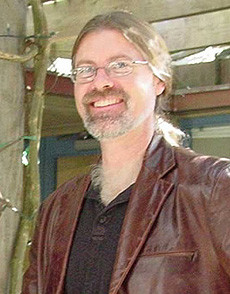 Sheldon Brown is an artist who works in new forms of culture that arise out of the developments of computing technology. He is director of the Center for Research in Computing and the Arts (CRCA) at the University of California-San Diego (UCSD), where he is a professor of Visual Arts and the head of New Media Arts for the California Institute of Telecommunications and Information Technologies (Cal-IT2).
Sheldon's work examines the relationships between mediated and physical experiences. This work often exists across a range of public realms.
As an artist, Sheldon is concerned about overlapping and reconfiguring private and public spaces: how new forms of mediation are proliferating co-existing public realms whose geographies and social organizations become ever more diverse. Art that explores schismatic junctions of these zones - the edges of their coherency - allows glimpses into their formative structures and provides a view that suggests transformative modes of being, extending constrained boundaries. A recurring strategy is to work with the contextual apparatus of museums with adjacent mission scopes to the art world, bringing avant-garde strategies to ranges of social issues at venues that often use more pedantic forms of discourse.