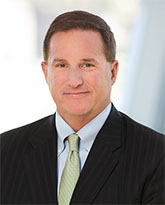 Mark Hurd is chief executive officer of Oracle Corp. and a member of the company's board of directors. He joined Oracle in 2010, bringing more than 30 years of technology industry leadership, computer hardware expertise, and executive management experience to his role with the company. Mark is also a member of the Baylor University Board of Regents.
Mark Hurd oversees the corporate direction and strategy for Oracle's global field operations, including sales, support, consulting, marketing, and alliances and channels. He focuses on strategy, leadership, innovation, and customers.
Before joining Oracle, Mark served as chairman of the board, chief executive officer, and president of HP, where his focus on customers, innovation, improved operational efficiency, and execution led to significant company growth. Prior to that, he spent 25 years at NCR Corp., where he held a variety of management, operations, sales, and marketing roles, ultimately serving as the company's chief executive officer and president and leading a successful effort to improve operational efficiency, strengthen the product line, and drive growth.